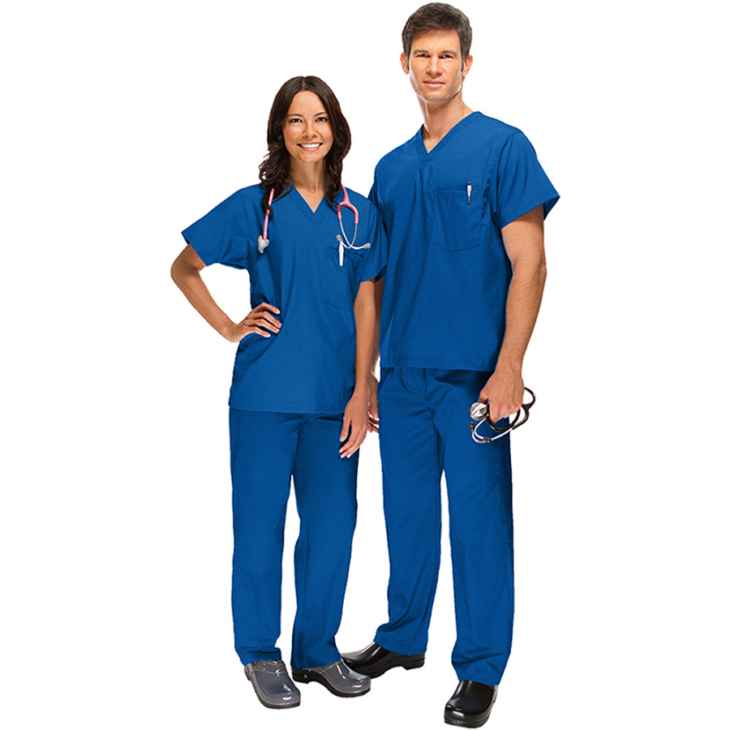 What You Should Know when Choosing Medical Scrubs for Staff 
When choosing medical scrubs for your employees, there are a few things to pay attention to. Doctors, nurses and other medical professionals are going to be very busy and running around most of the day, so it's important to choose scrubs that are functional. A professional's scrubs should still allow them to be comfortable to get the job done correctly.
Cut and Style
The cut and style of the scrubs may depend on the gender, but there are options to choose from. There is a deep v-neck, round neck or square type top. Deep v-necks may be more comfortable for a wide range of employees and is a standard style. However, some may want to wear a shirt underneath them if they are too low, so make sure your dress code allows that.
Color
The color of the scrubs is actually an important part of why they were invented and became popular in the first place. When medical staff wore white clothing, it caused too much eyestrain. This is why scrubs were created in a light green shade. While there are white scrubs, they can get dirty and it's probably best to pick colored scrubs. Dark colors will show less dirt and grime and look flattering on mostly everyone. You can choose different colors for different levels or different jobs, in order to differentiate them.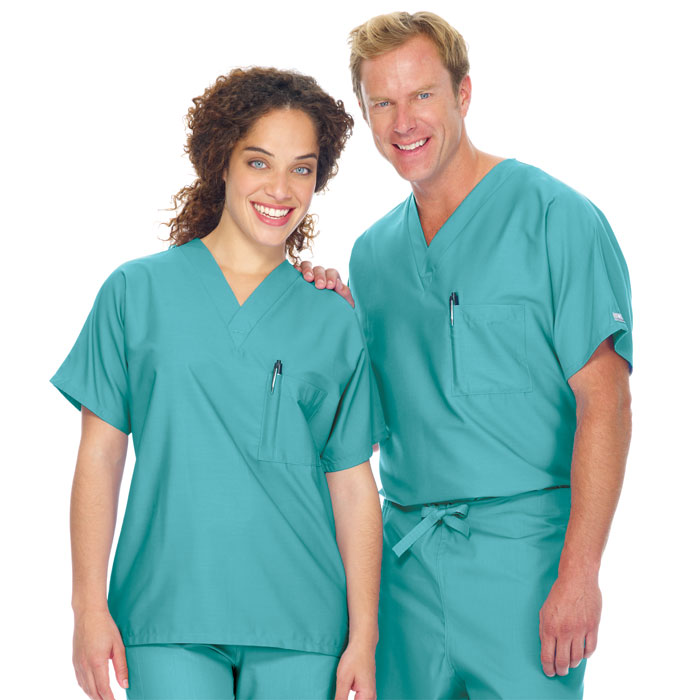 Pockets
Choosing scrubs with pockets will allow your doctors and staff to have on hand important items, like pens for noting in charts or other medical equipment. Most scrubs will have a chest pocket, but not all do. In addition, you may want to choose scrubs with additional pockets in order for employees to have some more flexibility to carry supplies.
Sizing
Many medical scrub pants have an elastic drawstring in order to provide comfort and wearability. Drawstrings will allow better sizing options for a wide range of employees. Chose scrubs with easy-to-identify sizing so employees can grab their scrubs quickly and report to work.
High Quality Scrubs
It's important that scrubs are properly maintained in order to create the sense of professionalism you are hoping to achieve. Since scrubs will get washed often, it's important to purchase high quality medical scrubs that won't fall apart in the wash and will hold up to the many wash cycles that scrubs require. Not only will high quality scrubs stand up to washings, but the stitching also won't come out and colors won't become faded.
It's a good idea to purchase additional scrubs so employees can have a spare set in case of spills or other accidents throughout the shift. The medical field can get messy. You may also want to have employees change out of their scrubs before leaving, so that scrubs don't become contaminated.