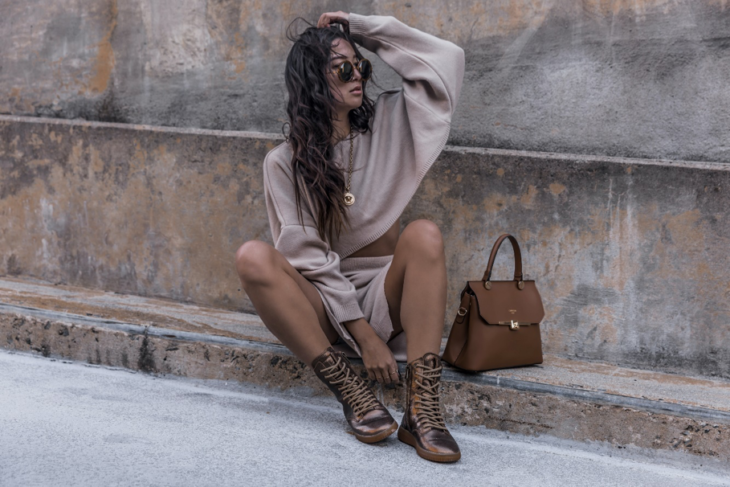 There are difficulties afoot at WhoWhatWearDaily. Surely, you are aware that fall is upon us (fine). What you might not know is that we're in the throws of our lovely Creative Director's biannual handbag search (not fine). The hunt may be on, but Katherine's been underwhelmed by autumn's offerings. While this is a lovely, high-class headache to have, you don't need to break out your tiny violins yet! Thanks to a recent epiphany, decisions have been made, and this season she's going gray.
It's actually a very practical choice. There were plenty of temping, brightly colored bags on the runway (like Fendi's oversized, colorblocked number, perfect to match with some timeless Oliver Peoples sunglasses), but if you're investing in a single (expensive) bag, committing to such a piece would be limiting and impractical. As Katherine once wisely said, "Gray matches nothing, therefore, it goes with everything." Indeed.
Our minds full of charcoal clutches and shoulder bags in shades of slate, we noticed that a few trendsetters have already become gray ladies. Chloe Sevigny carried a taupe tote around Manhattan recently while Peaches Geldof chose a lighter shade of gray for a night out at London's Mahiki. Mary Kate knows that gray matters, as she was spotted at the Hampton Social @ Ross concert series last week holding a bag in this hue.
We've had the good fortune (read: forced labor) to check out nearly every single gray bag currently available and have a few favorites. If you like the shape of Chloe's purse, you'll adore South American designer Aaneta's Amuleto bag. ($449, couturecandy.com ) Be & D's Tuxedo Leather Bag is an insanely cool looking option. It has raw-edged leather ruffles and antique brass details. ($970, net-a-porter.com) On the other side of the price spectrum is the stylish, if unimaginatively named, Medium Leather Tote Bag from Topshop. The bag's simple lines and soft dove color make this a must-have. ($100, topshop.com)