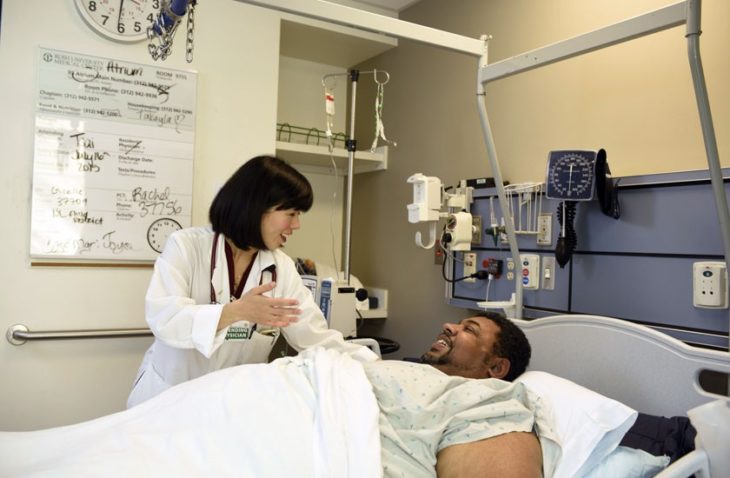 Rush ranking in Vizient study improved from 4th to 2nd spot from last year
The latest in Illinois healthcare news, a study by Vizient ranks Rush University Medical Center second among 99 leading academic medical centers in the United States, after being fourth last year.
Safety, timeliness, effectiveness, efficiency, equity and patient-centeredness were the criteria used by Vizient to determine the rankings of around 100 complex teaching medical centers and 93 community hospitals in the U.S.
The Vizient study, unlike others which solely take into account data about patients with Medicare or Medicaid, is based on data about all the patients, regardless of insurance.
Data and its use to transform the medical industry is highly important for insurers, among other decisive factors in the healthcare system.
For the analysis, Vizient used the most recent full year of data from its clinical data base, but it also included data from other sources: U.S. Centers for Medicare and Medicaid Services' Core Measures, the centers' Hospital Consumer Assessment of Healthcare Providers and Systems survey; and the U.S. Centers for Disease Control and Prevention's National Healthcare Safety Network.
Other good news for Illinois patients: Rush is among a limited group of hospitals that ranked high in more than one specialty. There are 4,500 hospitals in the United States, and only 158 of them were good enough to be ranked nationally by U.S. News in even one specialty.
This year's achievement, to be ranked second, after coming in on fourth place last year, was possible due to the staff, Michael Dandorph, President of the Rush System and Rush University Medical Center, said. "These committed professionals are focused on providing excellent, compassionate care and accommodating our patients wherever they choose to see their Rush health care provider."
Dr. Larry Goodman, CEO of the Rush system and of Rush University Medical Center, feels the same and is equally grateful to the staff for the results. "Being ranked so highly again among so many of our peer institutions in Vizient's survey shows once more that the patient care Rush provides is among the best in the nation," he said.
Both Rush University Medical Center and Rush Oak Park Hospital have been awarded the Healthgrades Outstanding Patient Experience Award. This is given to hospitals that rank in the top 15 percent according to overall patient experience scores. Patient experience performance is evaluated by applying a scoring methodology to 10 patient experience measures, using data collected from the 32-question survey of the hospital's own patients.