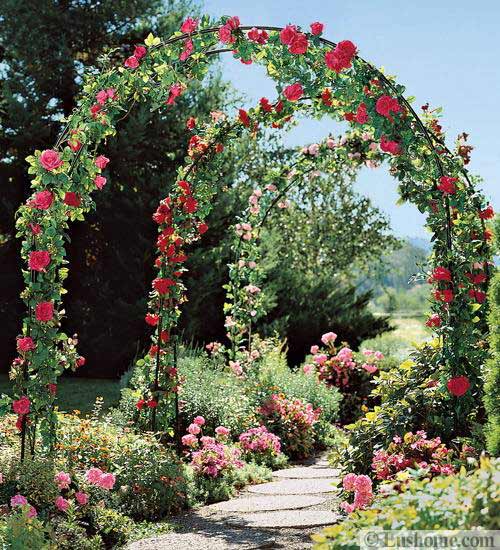 How to Make Your Lawn Look Beautiful With Garden Arches?
As a nature lover, you might be interested to know that- how you can decorate your yard with garden arches. But before that, you must know that garden arches have some other goals too besides makingyour lawn look beautiful. 
Its various objectives are- 
Functional Goal-

Garden arches

serve themselves as a supporting structure for vegetables like squash and legumes where they can climb and grow. 

Aesthetic Goal- They help to build an elegant pathway that is full of flowers to walk through during their growth. 

Practical Goal- To transform the elements of your garden like plants, flowers, trees, benches, chairs etc into an attractive and decorative piece. 
Hence, a garden arch has multi-functional purposes that tend to add a personal touch to your garden. 
To know more you can read about different types of garden archesthat could be easily made and cut downyourextra cost to create a lovely garden. 
Types of Garden Arches
There are numerous garden arches like- 
This garden arch can be built within a day. Besides, it can be created in six parts and give a classic touch to your yard. This can be used in creating a gateway, frame for a hedge or make it a portion of the trellis. Therefore, it's anincredible way to develop a wonderful covering for your lawn. 
It takes a long time to develop, however with patience anda proper timetableit could be made easily. This is usually placed at the front gate of your backyard. Moreover, it acts as climbing support to your delicate plants like roses, legumes etc that allows them to grow besides adding a magical taste to your garden. 
Garden Arch With a Seat or Bench
This arch tends to provide a special spot to you where you can relax and enjoy. It gives you an extra sitting area that allows you to chill anytime or you may smell fresh flowers by your side to change your mood. However, it is an advanced arch as it consists of a bench on it.And also requires some extra efforts for its construction. 
Garden Arch With an Entrance
It is an arch that is generally put on the gate of the garden. It beautifies the entrance of your yard that will fascinate you to enter the yard. This will enhance your mood and amuse you to explore the lawn from inside. 
This garden ornament is made of metal wires like steel or something that gives it a long-lasting life and strength. Additionally, it is affordable too that doesn't harm your pocket. These can be decorated with flowers and numerous climbers thereby enhancing the quality of your garden. 
Garden Arch Made With Wire
This decorative piece is made up of cords to ensure its stability. This is the best fit for your garden if you want to grow vegetables like tomatoes,beans, cucumber, legumes etc. Because it can bear the weight of these veggies. 
The arch is coloured white because it makes your garden look soothing to your eyes. The white colour contrast against the dark colours of your plants that makes your lawn adorable.